Tony Dawson
Teacher, Parent, Grandparent, Organist, Composer
Born: Welwyn, England, July 27, 1927
Died: Georgetown Hospital on Friday November 30, 2007, in his 81st year.
Beloved father of Jennifer McLaughlin and her husband Michael, and adored grandfather of Regan and Justin. Loving husband of the late Janet (Powell) Dawson.
To my former pupils
at the Royal Conservatory of Music, 1973-1993:
I have much to thank you for. The most exhilarating and rewarding years of my entire life were spent in your company, as we tried together to unravel the mysteries of harmony and counterpoint. You made me rich. You made me laugh. You made me happy. Some of you became friends. You invited me and my wife Janet to your weddings, and some of you even asked me to play the organ at the ceremony. You brought your children for us to admire. You enriched our lives.
So, from the far side of the abyss, I greet you and I thank you.
NEVER DOUBLE THE LEADING NOTE. GOD SAVE THE QUEEN.
Dr. J. Anthony (Tony) Dawson
---
«Lift Up Your Heads»
Choral Music of Tony Dawson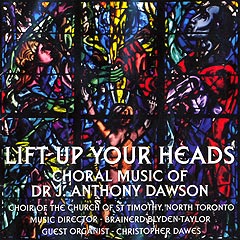 ---
Smoke gets in your Eyes, Joan Roberts
It is beautiful and was understandably one of Tony's "teaching pieces".